My first thought was that this makes glaring the limited difference between typical republicans (conservatives) and typical democrats (liberals).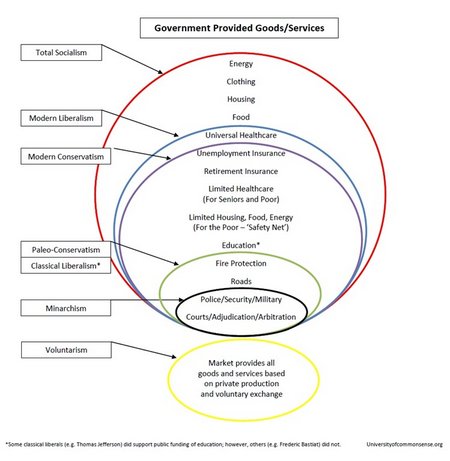 This is from Liberty's Torch.
My second thoughts involved the naming of the categories, and volunteerism being much less scary-sounding than anarchism, which is what the only truly safe section is. Minarchism may not sound less scary than libertarianism, which is what that part of the chart describes, in strict, traditional terms. Since "classical liberal" is a term I learned meant "libertarian," I am intrigued by having that matched with "paleo-conservatism," the next step up, and… mmm… acceptable. I always figure that it matters first what you choose to have government do, then, having decided, doing it right. Towns will run schools? OK, let's not make them money sinks that do a lousy job, and for goodness sake let's not let the federal government take de facto control. That kind of thing.
I'm glad the next loop up is modified with "modern," because it is so not conservatism. Except now it is. Deb sat down as I was working on this and we talked about the names and categories. I came to libertarianism in the seventies, and was heavy into it into the eighties. I learned it as what's called minarchism here, as I noted. She learned it, later, as what's called paleo-conservatism here. I learned that as more of a next level, just as shown, where you can't quite get everyone to agree that, really, these things can be done at least as effectively by the market or private cooperation.
And there's another thing. It seems to me that this looks at any and all activities at any and all levels of government. In my town, we have a classic example of volunteerism/anarchism, whereby the community runs a gas and electric utility, to benefit the community and keep it tight to the people it serves. Local action. So when we talk roads, are we talking that, yeah, way more efficient for the community to build and maintain them, while maybe a highway that goes long distances and has controlled access, yeah, that could work better or as well done as a privately built road you pay to use.
Which is really just a step up from that decision to assign the right to use force on behalf of everyone to a government entity. Trouble is, another thought I had right away, it's the very fact you are giving government that power to use force on your behalf that makes it easy for it to use power to coerce you. The idea is projecting it outward. It's so easy to turn it inward.
And arguably the dangerous transition point is that fifth item up: education. Once the government can not on coerce, but control what is learned, influence attitudes from the beginning, power is well entrenched. Which is why education cannot be controlled by higher levels, but must remain controlled by lower levels of government or community, or be in the hands of the people, or be privately operated and paid.